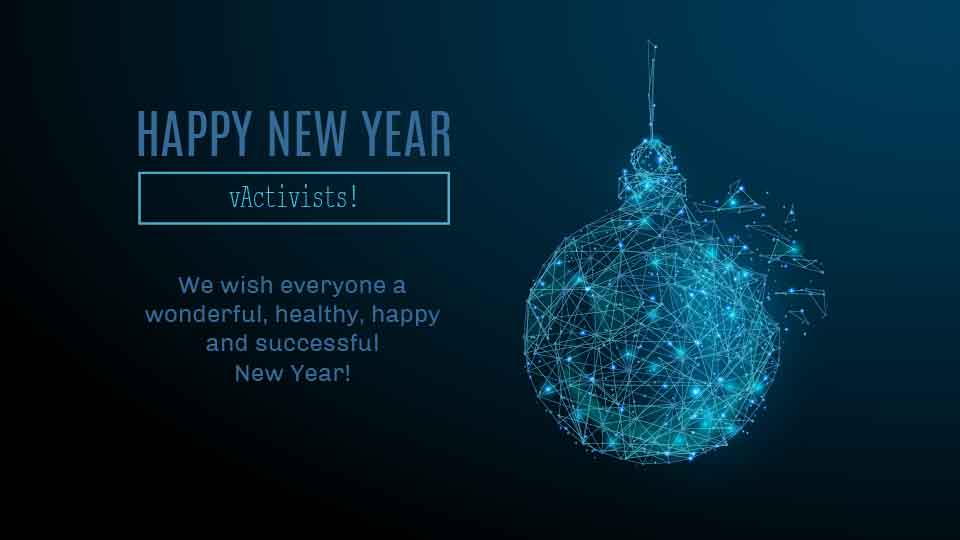 It is so exciting to launch the vActivists site for the new 2017 year! So much has happened this past year, and it brings both hope and fear for what we will face in the upcoming year.
To recap some highlights of this past year:
We seemingly have a new beginning (soon) with a new President, Donald Trump. I am hopeful that this president will be different from the usual establishment candidates. Hopefully, President Trump will address the corruption, and be independent of the influence of money, that can corrupt so many in government.
We (our movement) lost the battle of SB277 in the state of California, and it went into effect this past year. We are discouraged, but we will not give up the fight! We must win this war on our freedom, and get back the basic human right, to be able to make informed and proper choices for our children!
H.R.34 – 21st Century Cures Act became Public Law No: 114-255. on 12/13/2016.(will have more on this subject soon!)
We won on a HB1342, a bill introduced in the state of Virginia!! This was a major win on an intrusive bill which would have eliminated religious beliefs on the vaccine exemptions for all children who attend daycare, public/private schools… AND HOMESCHOOL children!1 The fight is not over, however, and they will try to pass this bill, or bills like it, in the future. We must remain vigilant!
We (activists) have created a very strong community surrounding the Movie Vaxxed, and we have had a lot of people step up and do so much for our community!
We will have so many battles this year as the fight on our children's health, our basic human rights, and our freedom continues. We must raise awareness and keep on top of all upcoming bills. Our year starts off with the fight on one particularly nasty bill SB 18 introduced by (you guessed it) Senator Pan, the same pharmacy funded politician2 who introduced and pushed SB277.
SB18 (introduced December 5, 2016, via Senator Pan called the Bill of Rights for Children and Youth in California.
Section 1 summary of SB18 includes:

(1) The right to parents, guardians, or caregivers who act in their best interest.
(2) The right to form healthy attachments with adults responsible for their care and well-being.
(3) The right to live in a safe and healthy environment.
(4) The right to social and emotional well-being.
(5) The right to opportunities to attain optimal cognitive, physical, and social development.
(6) The right to appropriate, quality education and life skills leading to self-sufficiency in adulthood.
(7) The right to appropriate, quality health care.
Although on the surface it sounds innocuous, and even like a good idea, tearing past the surface one can quickly see problems if such a bill is enacted. There are many other laws to protect children from abuse. Most parents do have their children's best interest in mind, and its basic human right to give parents this benefit of the doubt, only stepping in when there is obvious abuse. The problem here lies in the vagueness of what constitutes a violation of this bill. It seems that it would be at the state's discretion to determine if the child has appropriate and quality health care, or schooling or social and emotional well being etc. It leaves the law open to too much interpretation, allowing too much power to the state. It is an open invitation for the state to butt into the lives and make decisions for everyone's children, or even to remove the children on a whim. Any and all health decisions would be open to scrutiny, and be against what the state deems appropriate, and yes that could potentially leave non-vaccinating parents, or even a parent who decides just 1 vaccine is unsafe, at risk to have their child removed. Perhaps it is a medication a parent disagrees with, anti-psychotics, medication to treat ADHD, or basically anything, if the state deems it appropriate, parents lose all choices. This is a very dangerous law indeed.
Personal Reflection
Battles aside, I would like to note my personal experiences through this past year on social media.
I have grown immensely through my vActivism, and have learned so much! I have met such wonderful people in the community. People who have put their reputations, jobs and possibly even lives on the line to stand up for what they believe is right. Many people have dedicated countless hours trying to educate others in hopes to raise awareness to fight vaccine mandates, the pharmaceutical corruption, as well as save families from the pain of having one's life or the life of their loved ones ruined. Many of these warriors are doctors, nurses, scientists, teachers, and parents. A lot of parents of children who are vaccine injured or dead, put aside their weariness and grief in order to try to warn others, and to try to save them from the same hardships. Often their only form of "thanks" comes in mockery, insults, and downright bullying. Yet these parents trek on.
I want to thank everyone in our community for their countless hours of fighting for our rights, the rights of our children, the push to end corruption and so much more! I look forward to continuing our fights against mandates, corruption, and spreading information on vaccines so that parents may make informed decisions. Happy New Year to all!
-@VeritasDolor
PS. Please bear with us, as we work more on this site, and tackle the bugs and kinks
---
References:
1http://www.nvic.org/nvic-vaccine-news/january-2016/forced-vaccination-bill-in-va-moving-fast.aspx
2http://www.sacbee.com/news/politics-government/capitol-alert/article24913978.html
https://leginfo.legislature.ca.gov/faces/billTextClient.xhtml?bill_id=201720180SB18
---